March is known for St. Patrick's Day (along with Shamrock Shakes from McDonald's), but one of the most important aspects of the months is much larger, though it is unfortunately lesser known.
March is Women's History Month. Founded in the United States in 1987, Women's History Month is dedicated to the struggles and achievements of women throughout the nation's history.
Women's History Month originated as a local celebration in Santa Rosa, California around 1978. The Education Task Force in Sonoma County, California had planned for the week of March 8th to be formally known as "Women's History Week," and this week-long movement quickly spread throughout the country to other cities and states.
In 1980, many women's groups and organizations under the National Women's History Movement were determined to gain nationwide recognition. They were successful; in 1980, President Jimmy Carter issued the first Presidential Proclamation dedicating the week of March 8th as Women's History Week.
Women's History Week was celebrated annually until March of 1987, when Congress passed Public Law 100-9, marking March officially as Women's History Month. Every year in March since 1995, each president has issued an annual proclamation to Women's History Month.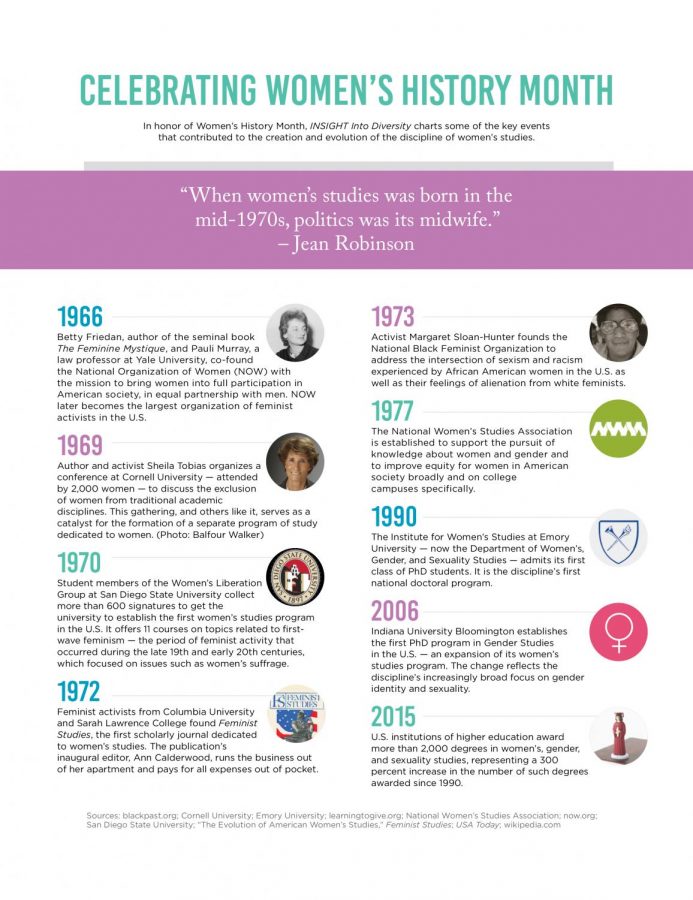 Every year, the National Women's History Alliance designates a yearly theme for the month. This year, the theme has been chosen in light of the spirit and experiences of these challenging times. The theme this year is "Valiant Women of the Vote: Refusing to be Silenced."
Women's History Month is dedicated as a whole to those women whose contributions are often overlooked in our country's history, such as Rosa Parks and Susan B. Anthony, to name a few.
Rosa Parks (1913-2005), is famously known for refusing to give up her bus seat to a white man on a Montgomery bus in Alabama. But the lesser known facts and outcomes of the situation are that her actions inspired the organization of the Montgomery Bus Boycott, and eventually initiating the Civil Rights Movement in the United States. This all resulted in the U.S. Supreme Court ruling bus segregation as unconstitutional, all starting when Parks refused to give up her bus seat.
Susan B. Anthony (1820-1906) was the president of the National American Woman Suffrage Association and a major pioneer of the women's suffrage movement in the United States. Anthony's work, along with her partner, Elizabeth Cady Stanton, helped pave the way for women's voting rights in the United States. The 19th amendment was added to the Constitution in 1920, allowing women the right to vote for the first time in the United States. This amendment was also known as the "Susan B. Anthony Amendment" to honor all of her work regarding women's suffrage.
The celebration of Women's History Month every year is a celebration of the women have contributed to our country's progress. Many of the accomplishments of women were and often are buried under the achievements of men in history. Many important figures in history and even in politics today are predominantly male. The foundation of Women's History Month is a major accomplishment in itself; women now are getting more recognition and appreciation for their hard work over these tough decades and centuries.
This year of 2021 in particular is and will be one to remember. This year, we have our first female Vice-President in the White House, Kamala Harris. Little girls will see now see female leaders rising to power in the political system. Figures such as Harris will have a huge impact on children's views on society and what they can accomplish in their futures. Our generation is their inspiration, and these women moving forward in their successes will have a great impact in the generations to come.
With March now upon us, it is time to celebrate and commemorate the strong and powerful women all throughout our nation's history, as well as welcome and watch many more women follow in their footsteps and continue to push societal limitations. March is a month of celebration and steps forward, and we as a nation are surely pushing forward in unity and celebration of past accomplishments and future aspirations.
Source: https://nashuproar.org/41913/features/womens-history-month/